Best Culinary Schools in UK
posted by: Gretchen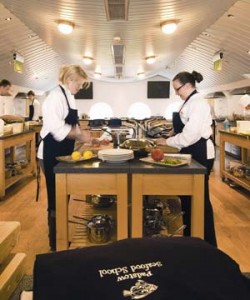 When the field of culinary arts became so popular in the last few years, many professionals and students became interested with it.  Those who were with other fields shifted to the field.  That's how in demand it has become.  Chefs are well-paid and this attracts most people. But for some, cooking is simply their passion and that they are not just after the money they get from it.  If you are one of the many people who are into the art of preparing food, then why don't you pursue a degree?
Top Culinary Schools in United Kingdom
If you live in UK (United Kingdom) and you are interested to study culinary arts, you deserve to know the best schools that offer culinary arts program.  Pay attention to the following:
Padstow Seafood School in Cornwall:  This is a Rick Stein's school that offers a range of residential and non-residential courses.  They offer a six-day residential Original Fish and Shellfish Cookery module. The students experience a trip to Newlyn fish market, an afternoon at The Seafood Restaurant and a day for discovering classic dishes from The Savoy.  It costs £2, 250 with seven nights' B&B.
Ballymaloe Cookery School, East Cork in Ireland:  It is located in an organic farm which is devoted to organic market gardens, greenhouses, and orchards.  The students can experience and learn to cook using the finest and freshest of ingredients.  Your experience in this school will be very unique.
Le Cordon Bleu in London:  The name itself signifies a world-class education knowing that it is a renowned network of educational institutions designed to provide good culinary education. Furthermore, London is also one of the world's gastronomic capitals.
Aldeburgh Cooker School in Aldeburgh, Suffolk:  With this school, you can have the best equipment that you need in the kitchen. They teach you the highest quality local procedure with the use of fresh ingredients.
Cordon Vert Vegetarian Cooker School:  This institution has the reputation for fresh and innovative cuisine which reflects trends.  They aim to bring out the best in their students as future chefs.
What are you waiting for?  Visit their websites or visit the schools personally for your inquiries.  After getting a degree, you'll be able to do professional catering or put up a restaurant and build a reputation in the food industry.
You might also like