How to Dress like Demi Lovato
posted by: Gretchen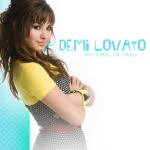 There are some people who are influential enough to affect other people's fashion to the extent that admirers want to look like the person whom they admire. One of the many celebrities whose fashion has a big influence is Demi Lovato. She is an American actress and musician who writes songs and appeared on several movies like Camp Rock, Sonny with a Chance, Princess Protection Program, and so on.
Fashion Tips
If you are one of the many people who like her clothes and fashion style, then this post is for you. Just by reading the post, you will have ideas on how to wear clothes to create the looks that would be quite similar to hers. Take a look at the following:
She quoted that she personally likes Forever 21 and H & M. Buy Forever 21 skinny jeans and tops. Most often, she is just very simple with regard her wardrobe.
Buy more dresses and designer tops. The dresses have bright colors like white, blue, green, pink, and brown. For your jackets, it's better to get some weaved or denim jackets.
Your concern should not only for her clothing. You also need to modify the way you wear makeup and the way you manage your hair. You need some Mineral Powder to have an awesome coverage while still looking natural. You need some nude colored lipstick or gloss and brown eyeliner. Keep your makeup light and in a thin line around the eyes.
Wear your hair long with full bangs. Color it light brown.
For the shoes, wear a pair of Converse sneakers.
Visit Demi Lovato's fansite for more fashion tips. You can also search for photos and see how she wears clothes.
You might also like