How to Get Driver's License in the Philippines
posted by: Rio Dianne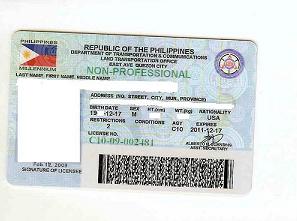 In all parts of the world, one is expected to have a driving license before he could drive any vehicle on the road for this is a great indicator which shows that you are well equipped with the correct driving skills. The ID itself is also considered a valid identification which you can use for whatever purpose it may serve. Each international country may have a different process on how to go about getting driver's license, but in case you're in the Philippines, here's how to get a driver's license in the Philippines.
Guide to Getting Your Driving License
In the Philippines, the Land Transportation Office (LTO) is the agency responsible for giving a Filipino his license.  And to start off with your quest, you need to go to the nearest LTO office in your area. The driver's license in the Philippines has actually three types – Student Driver's License, Non – Professional, and the Professional one.
Among the three, the first thing you have to do is to secure your student driver's license. To do so, follow some of the tips below:
Secure your requirements. You can either download an application form online bring with you some of the requirements like duly accomplished form, NSO certified birth certificate, and ID picture.
Go to the nearest office and fall in line. Fill out the application form in case you haven't downloaded one online. Fall in line and pay the amount of fee required which is roughly about 150 Php. You will then have your picture taken and electronic signature for verification. You will soon get your student license and this will be valid for a year.
Now that you have your student driver's license, it is time for you to start learning how to drive. You can either enroll yourself in a driving school or find a licensed driver which can help you learn. In a month time, you can now apply for a non-professional license. To do this:
Go to the main office of LTO in Quezon City with your student permit. Fill in the application form. You will then be asked to undergo medical exam and drug test. After you're done with it, return to the designated window. Medical test is roughly about 100 Php while drug test is around 300 Php.
After you have completed the tests, submit your form, test results, and student driver's permit to the LTO evaluator. There will be a review area where you'll be given time to prepare for a written exam.
Pay for the exam fee and have your picture taken as well as your electronic signature. Then go to the assigned area for the exam which most people say is very easy. a score of 30 out of 40 items must be obtained to pass the test.
After the written exam is the practical exam where you'll be asked to drive a vehicle. Once the exam is over, you may have to wait for a while for your non-pro license to be issued.
It is guaranteed that the process is very fast so there is no room for a fake driver's license. Moreover, there isn't a need for fixers since the steps are very easy. The license is valid for three years, and once it has expired, you need to go to the LTO office for renewal. On a final note, in case of lost IDs, you can also visit the office for replacement.
You might also like
World's Smallest Car
You probably know the world's fastest car and the world's most popular car. But did you ever wonder...