How to Remove Eyelashes without Remover
posted by: Gretchen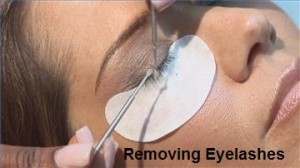 With the desire to have longer, thicker, and fuller eyelashes, most women would wear false eyelashes. This goes to show that eyes are one of the most important features of a person regarding his/her beauty. Beautiful eyes are assets.
However, some people who wear false eyelashes find it hard to remove them without remover. Others do not know how to remove them properly. To be able to get rid of them well, take a look at the following tips.
You can use a cotton ball soaked in hot water.  Once it is warm to touch, place it on your eyelid where the glue is.  Pull it off gently with your fingers.
You can use olive oil, castor oil, baby oil, coconut oil, or castor oil to get rid of them.  Pour some amount onto you're the area where you put the glue and let it soak for a minute.  Use a cotton ball under your upper eyelashes to prevent the oil from dripping into your eyes.  Once the glue has softened, use tweezers to pull off false eyelashes.
Rinse your eye area with lukewarm water to make sure your eyelashes are free of residue.
Plain water is also effective for others.
The use of petroleum jelly also works for some people.  This can also soften the glue in your eyelashes.  Wash them off with warm water.
Reminders when Removing Eyelashes
To avoid ripping your skin or losing your real eyelashes, avoid pulling off the artificial eyelashes without softening the glue.  Do not drop the glue right on your eyelid instead of the lashes.
More and more women are getting frustrated with thinner eyelashes.  Mascara and false eyelashes are becoming popular to make lashes long and full.  Just be careful in using them.
You might also like