How to Grow Longer Eyelashes Naturally
posted by: Rio Dianne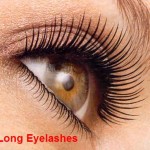 Gorgeous eyelashes definitely draw attention to your eyes thus making them seem marvelous.  The problem though is that not all individuals are gifted with attractive lashes to flaunt.  Primarily, eyelashes are the hair that is found on the eyelid.  The reason for their existence is basically because they protect the eyes from foreign objects, but then again lashes have become among the representations of being beautiful.  Generally, there are ways to mask your short eyelashes if you have them such as false eyelashes or eyelash extensions (Ardell eyelashes), and putting on mascara.  But putting them on regularly can be a tedious task especially when they keep falling out. Another choice is the eyebrow eyelash transplant, but it can be expensive though.  So, are they ways on how to grow longer eyelashes naturally? Hmm, let's find out what you can do at home.
Your lash is the same as your hair in your head, therefore consumption of a healthy and balanced diet may also aid in speeding up the growth of your lash.
Many people are claiming the effectiveness of petroleum jelly. For one, they swear about the use of Vaseline. Do this regularly by applying it on the site overnight and rinsing it off in the morning.
Use products which contains proteins, serums, and conditioner that can increase their strength. Latisse and Revitalash have been proven useful to grow fuller lashes.
Avoid pulling out that hair on the eyelid or trimming them contrary to what others do as it will only increase the length of time that they will grow.
Olive oil, castor oil, Vitamin E, etc are also among some of the natural remedies which can help them grow fast.
Those are some of the things that you can do. Don't be impatient if they do not grow overnight as it will happen as you expect it. if you really are crazy on how to achieve longer and thicker eyelashes, get help form make-up tricks to make them appear exactly how you want them, too. Good luck!
You might also like