Homemade Facial Masks for Dry Skin
posted by: Rio Dianne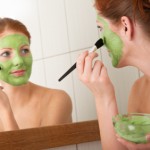 Is it the change in temperature or frequent bathing that causes you to have dry, chapped, and itchy patches in the skin? Although having dry skin has an advantage since it is not prone to developing acne pimples, blackheads, and whiteheads, it can be very annoying and embarrassing to see that powder-like appearance especially in the face. If this is the case, there is no need to fret since there is an array of remedies that may help you bring back the moisture in your skin. However, if you fear that easy facial masks found in the market may contain harsh chemicals for the skin, then why not turn to homemade facial masks for dry skin. There's a lot of DIY facial masks that you can do just right at your home. Here are some recipes for alternative treatments.
Homemade Facial Masks
Use honey and egg as facial mask. To do this, separate the egg yolk from its white and mix a tablespoon of honey on it. Blend the mixture evenly and once you're done, apply on face for atleast 15 minutes before rinsing off with warm water.
Avocado blended with yogurt will also make a good candidate to make your own facial mask. Basically, avocado is rich in Vitamin E thus helping in bringing back moisture of the skin. Blend a ripe avocado with four tablespoons of yogurt. Mix evenly until the mixture is smooth and apply on face for atleast 15 minutes, and then rinse off with warm water.
Yogurt and banana can also be blended and applied onto your face for atleast fifteen minutes. This can serve as one of the facial scrubs which can remove dead skin cells.
For combination skin which is characterized by dry and oily skin, oatmeal blended with milk and lemon juice can be a great way to use
Dry skin is one of the causes why wrinkles begin to appear on the facial skin.  In order to avoid this at an early age, you should keep your skin hydrated.  Follow our homemade facial masks, drink plenty of water and eat  balance diet to keep your skin healthy.
You might also like
How to Treat Xerosis
Xerosis is the medical term for dry skin. The condition is characterized with symptoms such as rough,...