Best Gift for Monthsary
posted by: Gretchen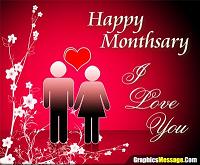 It has already become a trend for most people to celebrate a relationship month by month.  It's actually called monthsary.  For every celebration, your dear boyfriend or girlfriend expects something from you.  Thus, you need to prepare a gift every month!  This is such a crazy thing for others but for those who are really in love, they don't mind giving presents this often.  Besides, you don't need to give expensive things just to impress your dear.
I've thought of making this post to help those who are going crazy thinking of gift ideas on their monthsary.
Best Presents for Monthsary
Love Poem.  If you are poetic enough to express your love for your sweetheart then this will be a unique gift.
Picnic:  Take him or her in a park or by a clean river and prepare some of his favorite food.  You can also bring a fruit basket.   Show your effort to make the day special.  It's one great moment to talk about everything.
Romantic dinner:  Dress up properly and take your girlfriend to a fine restaurant with romantic setting exclusively for you.   Dance with her.
Flowers and Chocolates.  Although these are very common, girls still love to receive these things from their men.  These are old but sweet.
Book:  If your darling is a book lover, then find a nice book as a gift for the person.
Jewelry:  If you can afford well you can surprise her by giving a piece of jewelry.  Women cannot resist jewelry.  One of the great gift that you can give.
Love letter / Card:  This won't cost you much.  Simply write down your appreciation for the person and tell how lucky you are for having him/her.  This may sound a cheap gift and corny but the words of love in the letter will touch the person's heart.
Time, Love, and Yourself: Don't get me wrong about giving yourself. Your presence matters the most. Spend quality time together. Share stories, laugh, and be merry. Show your love and remain faithful. This will be the greatest gift.
Finding for the perfect gift for your honey is quite hard if you focus on material things.  Just follow what your heart says.   Sometimes, the best gift is something that is not tangible but felt.
You might also like
Best Gift for 1 Year Old
The loveable baby of your friend is turning one next month!  Of course as a close friend, you are expected...