How to Treat Acne with Tea Tree Oil
posted by: Rio Dianne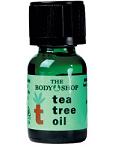 Dealing with acne is a total pain.  Most people may have gone far looking for ways on how to get rid of these disgusting zits, and only end up applying harsh chemicals on their faces.  But sometimes, one doesn't have to look any farther to eliminate pimples for the reason that there are a lot of home remedies available for treatment on how to go about treating them naturally.  For instance, we have the tea tree oil.  How to treat acne with tea tree oil, you wonder?  Find out by reading the entire article below.
How to Cure Acne with Tea Tree Oil
Generally, tea tree oil is taken from the leaves of an Australian herb, the Melaleuca alternifolia.  The oil from the leaves have actually been noted to do wonders for a couple of skin infections because of its antibacterial properties. Due to its antimicrobial property, it has become one of the most widely used remedy for the treatment of body, back, and cystic acne, and even removal of scars caused by zits.  This works in the same manner as benzoyl peroxide with the absence of drying of the skin.  Here's how to use it:
Dilute the tea tree oil with water to prevent the skin from drying.
Wash the face with water to allow the pores to open and pat dry.
Dab a small amount of the oil on the affected area.
Allow it to sit for a couple of minutes or even overnight and rinse thoroughly in the morning.
Do this atleast twice daily.
Basically, the oil is widely available in a lot of health stores, but be sure to only purchase the pure tea tree oil to make it so much effective. Be free from acne without breaking off your resources.  This is how to treat acne with tea tree oil. We hope that this was a lot of help!
You might also like