Microdermabrasion Philippines Price
posted by: Rio Dianne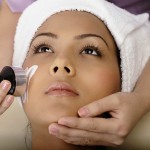 If you're an acne sufferer and have already tried a lot of home remedies to get rid of acne, then maybe you've heard of the microdermabrasion procedure. However, for those who haven't, it refers to the method of peeling dead skin layers through the use of diamond particles via a machine. In this way you can get rid of acne scars and other blemishes on your face, neck, arms, back, chest, and other parts of the body. Usually, this is done at the dermatologist's clinic as well as in a lot of spas. The method has been a great alternative to other procedures such as chemical peel the fact that there side effects are like redness and swelling are only temporary. Getting more and more interested? Maybe you're wondering what is microdermabrasion price in the Philippines? Learn more about it by reading the article below.
Microdermabrasion Costs in the Philippines
Even though spas in the Phils are booming everywhere which offer micro-dermabrasion procedures, many try to find relief from nasty pimples and acne scars in microdermabrasion kit which can be used at home. Apparently, there are a lot of brands available such as – Olay Regenerist Micro-Dermabrasion Kit Stay at Home, L'Oreal ReFinish Microdermabrasion System, and Mary Kay's. Pricing actually varies but it is estimated to be about Php 2,000 and up.
As for the sessions in the clinic, how much the method cost varies as well. The procedure usually ranges from Php 500-700 in spas. But in well-known clinics, it can cause you to shell off Php 1,500 – 2,000 per session. The number of sessions depends on the severity of the skin.
Generally, the required number of sessions is between 5-12 sessions for maximum results and atleast two weeks apart. It doesn't make use of any anesthesia and the procedure usually lasts for 30-45 minutes.   To learn more about microdermabrasion price in the Philippines, visit the nearest clinic and learn more about what to expect with the procedure. Stay beautiful!
You might also like
How to Treat Acne Holes
Acne scars, acne holes…  These are but annoying blemishes on face.  The acne is gone but the holes...