Most Expensive Bag in the World
posted by: Rio Dianne
For years women have shelled out some of their resources just to buy an inexpensive but perfect handbag that would be very much an essential thing in their wardrobe.  However, the fashion nowadays is to have a five figure "signature" handbags made by famous bag makers.  Yet, with the major price shift, women are still very willing to spend a lot of money to buy them.  For some women, they aren't just merely accessories; they make a good investment out of those bags, too.  Or maybe they live with the saying "Bags to women are like cars to men." Bags like cars are merely indicators of a person's status, income, and taste.   Check out what the most expensive bag in the world is.
Most Expensive Bag in the World
And the most expensive bag ever in the world goes to: The Hermes Birkin created by Japanese designer Ginza Tanaka at a costly price of $1.9 million.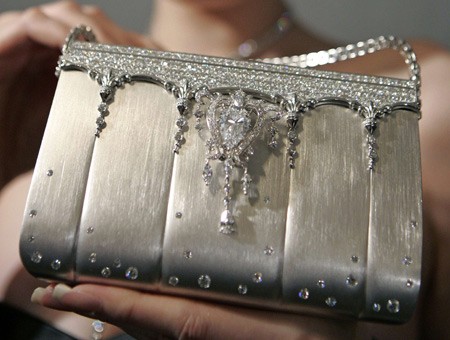 The Birkin bag is made of lustrous platinum and consists over 2,000 diamonds.  The diamond strap of the bag can also be used as a necklace or bracelet in addition to it being a handbag or purse. Also, the bag has an 8-carat pear shaped diamond which can be detached and used separately.
Other bags that made it to the list of the most expensive bags in the world are and how much these bags cost:
The Chanel Diamond Forever Classic at $261,000
Lana Marks Cleopatra  at $250,000
Urban Satchel Louie Vuitton  at $150,000
Hermes Matte Crocodile Birkin  at $120,000
Leiber Precious Rose at $92,000
LV Tribute Patchwork  at $42,000
Gadino Bag by Hilde Palladino at $38,470
Marc Jacobs Carolyn Crocodile Handbag at $30,000
Fendi Selleria Bag at $38,000
Still about Bags
In case, you're wondering what the most expensive golf bag and backpack are, then we got it for you. The most expensive golf bag is The Damier Geant Golf Bag which is created by Louis Vuitton with a price of $9750. As for the backpack, we got Mulholland's Deerskin Rucksack Backpacks at $1,324.95.
Whoa, that much money for bags and purse? Well, as for my personal feelings the most expensive bags in the world are all gorgeous and all of them almost have diamonds which are truly extravagant. So, have you gotten your favorite already ?
You might also like