Safety Tips when Traveling to Mexico
posted by: Gretchen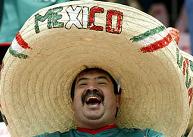 Going abroad for a vacation is really fun.  You get the chance to experience a different culture and environment.  You get to breathe different kind of air. You get to experience new things and new lessons.
Going to Mexico is fun.  It is actually one of the world's favorite destinations of tourists.  Those who have been there had a terrific vacation.  They say they didn't encounter any problems but you can't be so sure.  Scams and other forms of violence are everywhere.  Tourists are the common victims.
Health and Safety Travel Guide
Follow some travel tips when traveling abroad.  Below is a list of some reminders for you to be safe on your vacation, especially if you be with your children.
Prior to your flight, it's important to get ideas about your destination. If you are going to Mexico, then read something about it.  You need to know current warnings and public assignments with regard safety issues for tourists.
Be wise in packing.  Check the important documents that you need for your travel.  Pertinent documents include passport, visa, travel itinerary, identification cards, and others.  Make sure that your families and friends have copies of your documents.
Plan on how to keep your money safe.
Avoid wearing attractive clothes or pieces of jewelry to avoid being a target of theft.
If you are going to Cancun, Mexico, know its current weather so that you know what to wear and bring.
Avoid drinking water from the faucet.  Buy bottled water.  This will keep you away from traveler's diarrhea.
When traveling by cab, you should be careful. Take the cab that has been ordered by phone or by a reliable person to avoid robbery.
Be careful with drugs.  This is a very big federal offense in Mexico.
Be careful when driving at night.  Crime rate is higher at night. Follow this advice and you are going to be safe.
When asking for help, approach men in police uniform.  However, there are also many fake police officers.
Your safety should come first before anything else.  It's important that you feel safe so that you will have a wonderful and groovy vacation to Mexico.
You might also like
How to Travel when Pregnant
Pregnancy should not prevent women from traveling or having a grand vacation abroad or in any other places...