How to Save Money while Traveling
posted by: Gretchen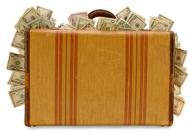 Most people hesitate to travel because of the cost. You can't travel without money.  You actually need a quite big budget when traveling. It could be in the form of cash or credit card.  If you observe frugal living, traveling is quite impractical.
If you are wise enough, you can still travel even if you have a minimal budget. You can still have a great vacation even without spending much.  How?  Well, look at the following tips:
How to Save Money on Travel
One of the practical ways to save money is to bring your own food and drinks.  It's not practical to buy snacks or meals along the way because they are expensive. Bring with you a big bottle of water, loaves of bread, crackers, and other food items or groceries that you want to have on your trip.  If you do this, you will save big.
If you stay in a hotel that offers free breakfast, then grab it.  Don't go out without having your breakfast.
Look for a cheap but safe lodging house. It may not be glamorous but at least you're just fine.  You won't be staying there for long anyway. But make sure that you keep your money safe.
Bring with you first aid kit so in case of emergency you will be able to survive without going to the hospital or buying expensive medicines.
Choose your company.  Most of the time if you are with people who spend a lot for shopping and for things that aren't necessary, you are influenced to spend also.  If you are with frugal companions, then chances are, you will not spend much.
Walking to visit places is also one way of saving. But avoid going to places that can really tempt you to spend.  Know your weaknesses.
Cut shopping cost.  You can shop for clothes some other time.
Don't eat at expensive restaurants.
Saving is just a matter of thinking wisely. You don't need to consult a financial planner or consultant for you to do it.  You can have fun and save at the same time.
You might also like
How to Save Money on Travel
Do you want to travel and visit places but still observing frugal living ?  Well, you can do it.  Traveling...