How to Attract Sagittarius Man
posted by: Feby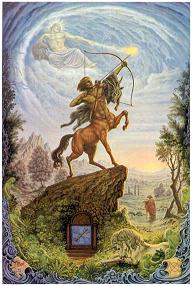 Are you eyeing a Sagittarius man?   Are you dying to have him?   Well, this article can answer your queries about the traits of Sagittarius man and how to attract him.
Man born between November 22 and December 21 is under the sign of Sagittarius in astrology.   They are friendly so you can easily get his attention but getting his attention is different from keeping his attention.   They love to travel. They love to party and have fun.   They are adventurous and love to explore new things.   They have so many interests that keep them occupied. They love change and diversity, so having one partner in a relationship will definitely bore them.
How to Attract Sagittarius Man ?
After learning Sagittarius' traits you would be probably thinking about the possible ways to draw his attention.   Here are some tips that you can try:
Be friendly.  The first thing that you can do is to become one of his friends. Try to humorous and adventurous.  That would mean you have to make him happy and gain his trust.
Be sporty.  Sagittarius man loves sports. They are very energetic so you should be sporty enough to entice him.  But if you think you're not good in any sports, try to use your money and buy some tickets in sport events. He will definitely love it!
Be mysterious. Don't spill all the information about yourself. Sagittarius guy loves puzzle. So if he asks some questions about you don't reveal the answers yet, just let him wonder and figure things out.
Be rational.  Male Sagittarius doesn't want overly emotional woman. They feel uncomfortable being around with this kind of woman.
Be flirt.  Sagittarians love to flirt. So if you want Sagittarius man to notice you, go ahead make the first move! Sagittarius male loves attention.  He will be overwhelmed when you do this.
If you're already in a relationship with Male Sagittarius just simply allow him to have his freedom and independence.   Guy under this sign doesn't want to be placed in a box of commitment, so don't be so demanding, rather be inventive and be flexible in the way you handle him.
Sagittarius Guy is compatible with Aquarius, Aries, Leo and Libra women.   If you are not under these signs don't be sad, just follow these simple strategies to attracting Sagittarius and he will definitely fall in love with you.
You might also like
Attracting a Libra Male
Learning the art of attracting the person you like is your key to get the attention and love of the person....