How to Attract an Aries Woman
posted by: Gretchen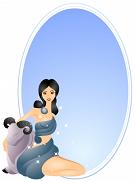 Attracting a person you like is quite hard if you are clueless of his/ her personality.  That's why there's a need for you to get to know the person before you go the distance of wooing her.  If you are up to attracting an Aries woman, then get ideas of her personality by reading the following general traits.
An Aries Woman
She is a woman of independence and intelligence.
She is energetic and outgoing but they can be trusting.
She aspires to lead and rule.
She is a woman who does not accept failure.
She is moody, short-tempered, and impatient.
She is also self-involved and impulsive.
Now let us move on to the next step, that is, to attract her.  How can a man do it? Take a look at the following dating tips:
Since the woman has a very strong personality, you need to show your confidence and strength as a man.  Let her realize that you are worthy of her attention. But don't act like you're trying hard.
Let her talk about her ambitions, goals, and feelings.
Appreciate her and the things she does like her job or accomplishments.
Make her feel that she is prioritized and that she is the first one who gets your attention.
Take her to events where she can exercise her leadership.
Don't be annoying to her by being around all the time. She needs some space because she loves individuality. In most relationships, there comes a time when both may need space.
Show her that your intentions are serious.
Best Matches for Female Aries
Gemini
Sagittarius
Leo
Aquarius
Least Compatible Zodiac Sign for Aries Woman
Taurus
Cancer
Virgo
Scorpio
Capricorn
Pisces
Neutral
Now check your zodiac sign?  Is it compatible with her astrological sign?  How is your compatibility?  Are you a good match?  That's great!  If in case it falls on least compatible, don't lose hope.  Your horoscope or astrology may say that it's hard to win her heart but if you are lucky enough you are going to have her.  Your character as a person will be your strongest weapon.
You might also like