Dating Tips for Ugly Guys
posted by: Gretchen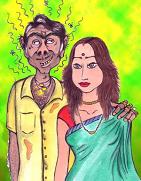 The reality of love is that it isn't always fair.  You don't always get what you want and who you want.  Sometimes, it is even funny.  Good girls fall for bad boys. Ugly guys get the hot and gorgeous women.  This really happens no matter how funny it may seem.  Some people just can't believe and don't understand why things like this happen.  But s they say, there's always a reason for everything.  You may not see it but there is.
Ugly Men Dating Guides
This post is all about ugly guys dating women.  Let's face it. Ugly people are often the subject of funny conversations. They are being laughed at.  This is not good but it really happens.  Now, if you are considered and tagged ugly, don't worry.  We are going to give you some dating tips on how to get the girls that you really like.
Be confident.  You may look ugly but that should not lessen your self-esteem or confidence.  Beauty is not everything.  However, ugly men sometimes lack this because they think that pretty women are after handsome guys.
Be interesting.  This is what good-looking guys sometimes miss.  They think that it is enough to be handsome.  They don't pay much attention to make conversations interesting.  If you are an interesting man, you catch the attention of women.
Have a sense of humor.  Aside from being interesting, you need to be funny, too.  Making women laugh by your sense of humor is important. It gives you the upper hand.  It's your advantage over men who are really handsome but boring and dull.
Be a real gentleman.  Respect the woman in every way.  Show her that you are a good guy, someone whom she can trust.  Open the door for her and pull a chair for her.  If you have this character, you can have hot girlfriends.
Develop good communication skills.  Beautiful girls love men who can tell good stories.  Women just love to listen to what you have to say, but avoid telling bad stories.  This is a dating advice that usually works.
So what if you are an ugly man?  It doesn't matter at all. Just have a good character and you'll have what you want.  Let girls love you for who you really are.
You might also like
How to Date a Cheerleader
All is fair in love and war.  You can love anyone.  You can date anyone for as long as the person wants...

How to Date a Fat Girl
Fat women are sometimes insecure about themselves.  They think they are so ugly because of their weight....