Dating Guidelines for Teenagers
posted by: Gretchen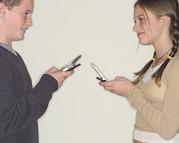 People start dating as early as teenage years, probably out of curiosity or aggressiveness.  These years are actually the most crucial stage of life.  Due to this fact, it is important to guide the youngsters or teens on everything that they do, including dating.  They need to be guided by some dating rules that they have to follow and dating boundaries that they should know since they want to explore the world of dating.
Dating Rules for Teens
Talk with your parents when you plan to go out on a date.  Tell them who you are dating with, dating place, and leave a contact number where you can be reached. This is to show your respect to your parents.
Observe your curfew so your parents won't be worried and mad.  It's a policy that you need to follow.
A gentleman makes it a point to meet the family of the girl so have the courage to pick her up right at their door and take her home on time. This is one of the requirements so you can go out with the girl with full permission from the parents.
Avoid doing risky things that may ruin your future or that you may regret later.  Know your boundaries.  Use your mind.  Bear in mind that you should not fight temptation, rather you should avoid it.  You should not know that you're not going to win over temptation.
Avoid drinking alcohol.  It can destroy your way of thinking.
At your age, it's better to have group dates.  You should consider it and think about how it's going to help you learn growing friendships.  As much as possible, forget about being sexually involved.
If you feel something towards a person, assess it well. Don't mistake it for love.  You're just kids.  You may feel that you know yourself well but there are things that you don't know yet.
If you are into online dating, be careful.  Do not disclose your personal information.  There are a lot of dating questions but you don't need to answer everything.
You can fantasize your marriage but don't focus much of your attention on it. Plan for your future well. Work out your plan.
Heed the guidance of an adult and you'll enjoy the life of a teenager.  Adults are there to guide you because they have been there.  Explore the world full of magic!  Have fun!
You might also like
How to Date a Quiet Guy
Can you imaging yourself dating a quiet guy ?  Is it unimaginable?  Most girls go for guys who know...