How to Date a Taurus Woman – Dating Guide
posted by: Gretchen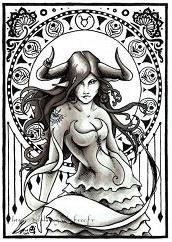 Are you one of those who check horoscope updates daily?  Do you base your decisions or plans to what your astrological sign says?  If so, then you must really have faith in astrology that even your romantic life depends on what it says.  Well, there's nothing wrong with it.  Now you want to date a girl under the Taurus sign.  You really like her so much so you want to set everything properly.
The first step that you should do is to get to know her.  Know her likes and dislikes.  Be informed of her attitudes as a female.
The Taurus Woman
She is attractive and never fails to take good care of her appearance.
She learns things easily.
She is very loyal so she deserves loyalty, too.
She is philosophical in nature.
She is cautious in almost everything.
She is a one man woman and will be a good lifetime partner.
She will choose to endure hardships than abandon her partner.
Now let's talk about some dating tips or pieces of advice to make your date a success.
How to Date a Taurus Woman
Be yourself. Show honesty and be clear.
Give her comfort by providing something good to eat or drink. She enjoys it.
Treat the Taurus woman with a taste of luxury.  She loves the fine and expensive things.  You don't have to do it all the time.
Express sensuality by hugs and massages, and other physical pleasures.
Take the Taurus girl to an elegant event.  She will enjoy to be displayed.
She loves surprises.  She loves to receive presents, flowers, and cards.
Let her take care of you.
Keep a calendar of her activities to know when to ask her out.
Getting to know each other takes time. Enjoy each other's company. Be patient.  There's no need for you to rush. Make every single day a day to remember.  If all fails, then keep on searching.  Try dating other women. May be the Libra woman is for you.  If it fails again, go for a Capricorn girl, an Aquarius girl, a Gemini lady, an Aries woman, a Virgo woman, a Scorpio girl, or a Leo woman.  In short, keep believing and keep on trying until you meet you God-given mate. Have faith!
You might also like
How to Date a Leo Girl
Trying to get a woman who has a very strong or different personality is pretty challenging, especially...