How to Date a Med Student – Dating Guide
posted by: Gretchen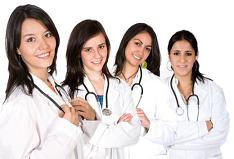 Wooing or dating with a future doctor requires a lot of patience.  You need to have a very wide room for understanding the person.  If you can't be understanding and patient to the person then your relationship will not work.  You know pretty well that a medical student and even a law student are very devoted to their studies and very much attached to their books.
Tips to Make Your Relationship with a Medical Student Work
Face the fact that they devote much of their time with their books.
Do not show your "ew, gross" reactions about their stories that are really gross.
Give them moral support especially when they feel upset about their test result.
Be patient and forgiving when the person forgets special dates and meetings. It's not the end of the world.
Do not expect them to spend a very long time with you.
How to Date a Med Student
Fit your date time into the schedule of the med or premed student. Check his/her calendar of activities. You have to be flexible.
Think of interesting and exciting activities to turn a typical day extraordinary. You need to find out the things that make the person happy. Get the person outside the medicine world. Make sure your date will be very special and fruitful that the person will forget about his/her cases, books, and pressures.
Try to get on the level of your medical student. Ask something about the things that he/she is learning at school. Even if they don't interest you at all, show or express interest in the things that he/she is telling you. This is one way of letting the person feel you are there to support him/her.
Now you know how to date a med student. I really hope that these dating tips will serve as your guide in building a stronger and healthier relationship with a med student.  Good luck!
You might also like
How to Date a Doctor
Many people say that dating a doctor is really hard.  It's like you are competing with his profession...