Globe Tattoo Postpaid Broadband
posted by: Gretchen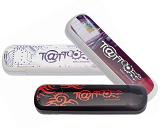 With the advancement of technology, surfing the net is now made easier.  You don't have to go to computer shops and rent a unit just to check your inbox or to update your social networking accounts because you can definitely own an internet line.  What makes it even greater is that you don't need a telephone to be able to avail the service.  You can get it at a very affordable price. You can also control your bills so they won't be skyrocketing.
This very cool and convenient internet service can be availed from major wireless telecommunication systems such as Sun Cellular, Globe Telecom, and Smart.  We will be giving bits of information through a simple review about Globe Tattoo Postpaid Broadband for you to better understand how it works.
Globe Tattoo Kit
This uses a USB stick which works as a modem. Users simply plug it into computers to surf the web anytime, anywhere for as long as there is network signal. 3G and High-Speed Downlink Packet Access (HSDPA). With this kit, you can enjoy exciting games online and you can connect with friends through social networking sites. Your money can really go far whether you choose to be on prepaid or postpaid plan. What makes it even more exciting is that you can send and receive SMS and make instant calls using your USB Stick. Simply plug it in.
Postpaid Plans
Postpaid plans also come with a free Tattoo Broadband USB Device and SIM pack.  If you prefer to avail a postpaid plan, you have the following choices.
Plan 499: This plan comes with 50 hours free surfing per month.
Plan 999: This plan comes with unlimited surfing per month at up to 2 Mbps.
You can also try Tattoo SuperStick at Plan 1299.  This will allow you to share your connection with up to 5 devices at a time.  It's like you are on a wifi zone! You can also avail of prepaid services.  You have a wide variety of choices.
This is very convenient for people who travel and need to be online.  It is such a big help plus it doesn't cost you much.
You might also like
How to Load Globe Tattoo
Globe Broadband Tattoo, formerly known as Globe Visibility, is Globe telecom's offering to the masses...

Globe Wimax Review
One of the best wireless broadband internet providers in the Philippines includes Globe Telecom. It offers...