How to Make a Homemade Soap
posted by: Rio Dianne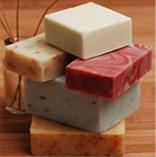 To make your own homemade soap need not be an arduous task.  Instead, creating natural homemade soap can be so much interesting and rewarding experience as soon as one understands the basic processes on how it is done.  But aside from the excitement it brings, what else are the advantages of knowing how to make this?  The answers?  Well, to create your own homemade soap – be it an organic or glycerin, etc. – is always cost-effective.  Also, you have the option to play with your soap recipes by adding up other ingredients, like glycerin, shear butter, herbs, organics, and other essential oils.  Moreover, since what you're going to use are all-natural, this can be much healthier for your skin especially when trying to treat skin problems.
You don't have to be fussy about how to make a homemade soap. Once you've learned the basics, the next thing you need to do is to be certain that you have the right ingredients as you don't want to end up with filthy soaps, right?   So what else are you waiting for?   Let's get this soap making started.
Making a Homemade Soap
You can try making it without lye, however this ingredient is the most well-used when trying to make your own.  Apparently, there are a couple of ways you can choose from when making your own soap at home with the use of lye.   This includes:
Hot Process:  This requires boiling your lye with fats and oils.  Stirring continuously should be observed in this process to ensure that the finished product is highly usable.
"Melt" and "Pour" Process: This is yet another popular method of coming up with customized soap.  Ready- made one is melted in this process and then one will add his personal ingredients like spices, milk, moisturizers, and other essential oils.
Cold Process:  This is an excellent process for beginners as using this method actually allows you to create  from scratch.
With these methods, let's learn the basics of soap-making using the cold process.
Using Cold Process to Make a Homemade Soap
Add lye to the distilled water and mix slowly in a plastic or glass bowl. Stir constantly and once you're done, set the mixture aside and let it cool.
In a stainless pot, melt your oils such as your coconut oil.
It is important that the temperature of your lye and fats/oils should be in the right range.  So, once the temperature of your lye/water mixture is close to the melted oil, slowly combine the lye mixture to the oils to create soap mix.
Stir this solution slowly and continuously until it does not separate back into the original lye and fat/oils mixture (also called as "trace").
Once it traces, it's time to add essential oils and other fragrances that you want.
Stir the soap mix thoroughly and pour the mixture into the molds.
Wrap the molds using towels and leave it on for about 24-48 hours.
Let it to solidify before finally removing it from the molds.
Allow the soap bars to cure for 3-4 weeks before finally using them.
Voila!  You've just learned how to create your own soap.  Don't frown if you aren't able to come up with it correctly during your first try as the actual process can really be much complicated and it depends extremely on one's experience.  Try to do this with your kids at home and experience a great adventure ahead.  Have fun!
You might also like