How to Make Homemade Dish Soap
posted by: Rio Dianne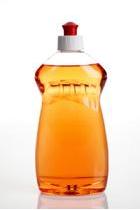 Every time we write our grocery list, dish detergent is always a reoccurring purchase as dishwasher soap is a necessity in our household.   However, with the prices of the commodities going up, it would be better if you, at least, opt for cost effective methods to save a few pennies, right?   How exactly you can do that is be resorting to making your own soap for your dishes, it's guaranteed that you get an all-natural and environment friendly detergent.  Below is a recipe on how to make homemade dish soap.  Try it and who know, yours might be as good as a recipe on how to make dish soap at home.  Try it and who know, yours might be as good as the products of other manufacturers (e.g. Palmolive) and brands.  Whoa!  Let's see.
Making a Dishwasher Soap at Home
Create a homemade dish cleaner using castile soap which is made from vegetable oil.  Castile can be purchased from your department stores.
Ingredients:
2 cups of liquid castile soap
½ cup of water
1 teaspoon of lemon juice
5 drops of essential oil fro scent
How to Make it
In a mixing bowl, pour the liquid castile and ad water.  Mix thoroughly.
Add in the lemon juice and your chosen essential oil.
Mix well and pour the dish soap in a bottle and shake well before using.
That is how to make a dish cleaner at home with castile soap.  The recipe is really easy to do.  In addition, it offers a larger quantity, yet it doesn't cost a bomb.   Now, washing dishes wouldn't be a dreadful task for you because of this definitely worth making dish detergent.   Hope this helps.
You might also like