How to Get Rid of Old Scars on Legs and Face
posted by: Rio Dianne
Wouldn't it be amazing to have a smooth and shiny legs or a scarless face like what you see in this picture? Most women apparently would want to have flawless skin, however not all are lucky to be born with unblemished skin.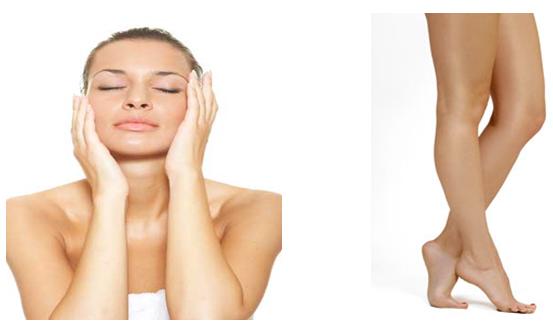 Scars left in the skin can make you lose a part of your self-esteem.  Say acne scars, it is very uncommon for acne to go away without leaving marks in the form of scars, right?  What's worse is that the scars seem to not go away.   Others are caused by cuts, or childhood diseases like measles and chicken pox, burn, etc  which can be found on any part of the body including thighs and legs.  Too much exposure to sun rays can also leave it on your face including your cheek, nose, chin, or on hands.  Whatever the cause is, it can be very frustrating.
Looking for ways to get rid of your old scars? Just read on.
How to Get Rid of Old Scars on Legs and Face – Naturally
You can follow the home remedies below to help you how to get rid of old scars naturally. These remedies can be just as effective as some ways on how to remove scarring of the skin. Moreover, they can be less evasive and less costly.
Vitamin E – Pure Vitamin E can be applied to your scars atleast three times a day.  Results can be seen within two weeks.
Lemon Juice – Lemon juice has the ability to lighten up black scars caused by acne, etc.  You can wash your face or any part of your body with scars then apply a cotton ball with pure lemon juice into the scarred area.  Wait for 10 minutes and rinse it off.
Pearl and Honey Powder – This speeds up the skin rejuvenation thus exposes smoother skin more quickly.
Tea Tree Oil – This is proven to help get rid of old and new one.
Massaging also helps in getting rid of old scars as well as preventing build-up of scar tissue.
Medical Procedures to Remove Old Scars on Legs and Face
Nowadays, there are already a number of treatments that can help on how to get rid of old scars on legs and face.  However, they might cause you to shell out some of your resources. But, if you've been doing the natural ways for over a year now and yet you haven't seen any indication that your it is fading, then I guess it's time to see your dermatologist about it.  You're dermatologist might ask you to consider some of the treatments including microdermabrasion, collagen injections, Laser, and other surgical procedures to further improve the appearance of your skin.
For some people, the way they look matters as much as anything else in the world.  But whatever your choice is to get rid of old scars on your face or on your legs, make sure that you weigh your choices well to prevent further damage on your skin. Good luck!
You might also like
How to Treat Acne Holes
Acne scars, acne holes…  These are but annoying blemishes on face.  The acne is gone but the holes...