How to Start a Small Restaurant
posted by: Gretchen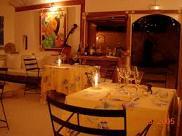 If you're fed up with your job and you're just sick being employed, maybe it's time for you to be the boss.  Start a business and be the boss. Starting something is never easy though.  But once you've started it already, the next steps will be easier.
Considering a business in the food industry is a good option.  Put up a small restaurant, bar, or a steakhouse.  Pizza parlors are also gaining popularity nowadays.  If you can manage it well, you'll never be failed.  Your money will keep on growing.
How do you get started?  The following tips are designed to help you on how to start a small restaurant.
Check your capital.  How much do you have?  Is it big enough to get started?  Are you on a low budget?  Do you need a loan?  If yes, consider the interests.  You cannot start a good restaurant with no good amount of money.
Estimate the average cost of putting up so you can make up your mind.
Location.  One of the main considerations of any business is location.  If you are near the commercial complex, then the better.  If it's near a school, it is also a good location.  You'll have a big chance to have regular customers.  Make it accessible.  But this will mean bigger capital.
Consult reliable people who are into business.  Seek their assistance and guidance.  You can also hire a business team that will support you.
Do some research about the taxes or revenue in your place to know the permits and licenses that you have to seek.
Lease or purchase the needed equipment for your restaurant like dining table and chairs and kitchen wares.
Determine and plan your restaurant's menu and its pricing.
There you go!  Do some reflection.  Can you manage to start up a small restaurant now?  If the answer is yes, then move and get started!
You might also like
How to Date a Workaholic
You think you've found the right woman for you when you met her.  Since that day you started to fantasize...