What Car does Bill Gates Drive
posted by: Gretchen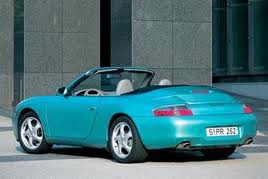 If you have been amazed by the unique structure of bill Gates House in Washington, I'm pretty sure that you are wondering what other luxurious things he has in life.  Have you ever wondered what kind of car Bill Gates drives?  I have always wondered.  Now, I'm here sharing you what I have gathered about the car that the richest man in America drives.
Forgive me but I am not pretty sure how many cars he does drive.  He may have everything you name.  I will only be talking about maybe two of his many cars.  He owns a 1999 Porsche 911 convertible.  Take note this is quite a rare car.  He also owns a 1988 Porsche 959 Coupe that is one of 230 made by Porsche and it has been said that he also owns Ford Focus 2-door.
About Bill Gates Porsche Cars
1999 Porsche 911
3, 387 cc 3.4 liters 6 horizontal rear engine with 96 mm bore
78 mm stroke, 11.3 compression ratio, double overhead cam
Variable valve training/ camshaft and four valves/cylinder
Fuel economy EPA highway
Premium unleaded fuel
64 liter fuel tank
Power: 221 kw, 296 HP @ 6, 800 rpm
258 ft lb, 350 Nm @ 4, 600 rpm
1988 Porsche 959 Coupe
Introduced at the 1983 Frankfurt Automobile Show
All-wheel drive Group B Race and Rally Car
Porsche's Street Super Car
Twin turbochargers
2851 cc, 450 bhp DIN
6 cylinder air-cooled boxer engine
4 valve cylinder heads
That's it!  You now have a taste of Bill Gates' car collection.  If you see these autos while driving on the road, be careful.  You might bump your vehicle into them. Your vehicle's price may not be enough to pay the damages.  Kidding!
You might also like
Tips when Selling a Car
Do you want to turn your used car into cold cash and replace it with a better brand? Do you think you...