How to Treat Chicken Skin or Keratosis Pilaris
posted by: Feby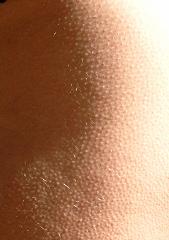 Keratosis Pilaris or chicken skin is a condition wherein your skin resembles goose bumps when you feel cold.   It gives an unpleasant texture on your skin.  It may feel rough and not so good to touch.   It may visible on your arms, thighs, buttocks and sometimes on face.   Severe cases of keratosis pilaris are mistaken as eczema.
This is not a disease and there are treatments available, however it can lower a self esteem of a person who has it.   What causes chicken skin?   How to treat Keratosis pilaris ?
Causes :
Hereditary factor
Excess production of keratin that blocks the hair growth in the skin
Extremely dry skin
Poor health
Vitamin A deficiency
Treatment :
How to treat chicken skin ?  Is there a way to get rid of this?  Unfortunately, no available cure for keratosis pilaris but there are various treatments that you can try but it doesn't guarantee that it can remove or eliminate that condition. Here are some:
Have a balanced diet.  Eat vegetables and fruits.
Take food supplements. Food supplements such as vitamin a, e and omega 3.
Moisturize. Use Dove nutrium body wash and moisturizers with gentle exfoliating lotion or with tretinoin.
Use creams for Keratosis pilaris. Some creams need prescription so you need to see your physician before applying them. Some popular creams are: Amlactin cream, carmol 40.
See your dermatologists. Dermatologists have so many available treatments that can be done to eliminate this condition; one of them is photodynamic therapy.
Since one of the causes of keratosis pilaris is dry skin, one way to prevent this condition is to always use mild soap and exfoliate the skin.   If you think the condition is getting worse, then it's about time to see your physician and seek some help.
You might also like
How to Treat Skin Asthma
Among the skin allergies and conditions that some people are dealing with is skin asthma.  Others may...