How to Apply Yellow Concealer
posted by: Gretchen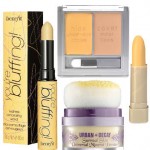 Makeup concealers are very popular as they can hide scars, marks, dark spots, pimples, and other skin blemishes. There are times when we just need to hide skin flaws like when there are special occasions or gatherings. We want to create perfect skin tone by hiding imperfections.  In order for you to succeed in hiding or concealing your skin flaws, you need to learn the art of applying a neutralizing makeup corrector.  A yellow-based concealer is a best match for most of the skin tones.
What does Yellow Concealer Do?
The benefits that you get for using yellow concealer include the following:
It warms up the complexion: It can hide stress and fatigue signs. How? Apply a swipe of yellow concealer or primer. It adds warmth to the skin and makes it appear brighter and better. Apply it with a light hand on your skin and you're done hiding your fatigue!
It reduces pink and red tones: Green is commonly used to hide redness, but yellow can also do it. It can hide your acne, scars, or any other skin blemishes that are pink-toned.
It can hide dark circles: This color can hide or reduce the appearance of dark circles. But don't apply too much, though to avoid creating the cakey look.
How to Apply?
Applying concealers can be done through the following tips:
Dry your pimple with the help of a blow dryer on low heat.  Use a pointed brush to target the yellow-toned concealer that matches the tone of your foundation.
Lightly press around the edges with fingers and set with loose powder. A concealer pencil can also be used.
Moisturize the skin well and then apply a creamy concealer.  You can also dust it with subtle, skin-toned shimmer powder.
Pay attention to the nose bridge, corner of mouth and outer corner of eyes.
To hide broken capillaries, you need a pointed fiber.  Press the concealer using the fingertips and then dust with loose powder to let it set.
Good application of cosmetics is learned through practice.  Keep on using them!
You might also like
How to Treat Acne Holes
Acne scars, acne holes…  These are but annoying blemishes on face.  The acne is gone but the holes...