Best Pore Minimizer for Men
posted by: Gretchen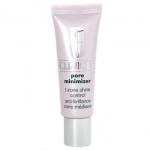 Generally, men have larger facial pores than women. Oily skin caused by increased sebum output is the common indicator of enlarged pores in men and women. The presence of oily skin and acne leads to the occurrence of enlarged pores in men. Enlarged pores kill the confidence of most men. That's why they find some ways to reduce or minimize the size of pores. But what are some of the best remedies to tighten or close pores?
Home Remedies
It is important to clean your face regularly like every morning and night with a gentle, oil-free facial cleanser formulated for acne-prone skin.
Use a topical retinoid to stimulate collagen production.
Apply a pore-reducing moisturizer after washing your face to reduce the size of pores and absorb excess oil. Apply moisturizer to control excess oil.
It is also necessary to scrub your face twice a week to get rid of blackheads, whiteheads, and dead skin.
You can also put on clay-based mask to your T-zone once a week. It includes forehead, nose, and chin.
Top Pore Minimizer Products
If pore minimizing cannot be achieved through home remedies, try purchasing any of the following clear pore treatment products for men:
Clinique Pore Minimizer T Zone Shine Control: With this product you can watch your pores getting smaller and smaller. It helps shrink the look of pored to refine the texture of the skin.
Clinique Pore Minimizer Instant Perfector: It helps you refine the look of pore with a natural-looking finish.
L'Oreal Skin Genesis Pore Minimizing Skin Re-Smoother: Smoothing treatment micro-tightens pores and smoothes to reveal young skin. This product incorporates Pro-Xylane and hyaluronic acid to support skin at the cellular level.
Neutrogena Toner, Alpha, and Beta Hydroxy Formula: It reduces the appearance of pores and refines skin to be clear and more even toned.
Estee Lauder-Idealist Minimizing Skin Refinisher: This is also a good product for shrinking large pores.
You can also try bee propolis. Manypeople say it is effective in minimizing pores.
You might also like
How to Prevent Oily Face
For some people, having oily face is really a big inconvenience.  Having excessive oil on the nose and...